Welcome to 2020!
After a small time in hibernation recovering from the incredible Christmas period, I am back into action and creating jewellery again.
A huge thank you to everyone that had; made a purchase, ordered a bespoke piece, visited my website or event and for being a Park Road Jewellery VIP. It means so much to have your support for this one woman business.
2019 was an incredible year for Park Road Jewellery, so I cannot wait to see what this year has in store.
---
Bespoke projects
Here are a few pieces I made for customers before Christmas.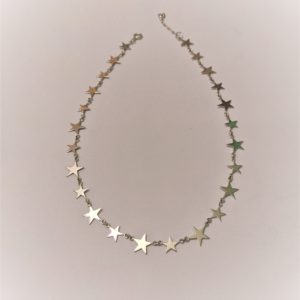 This Sterling Silver Star Necklace was a bespoke request from my website. The customer had seen someone wearing a complete star necklace, but could not find one anywhere that she liked.
We discussed exactly what style and size she wanted before I made this piece. Every single star is hand cut from silver sheet and connected by welded rings.
"Michelle made me an amazing necklace to order with stars all the way around. She did an amazing job and it looks beautiful. If you want something that stands out, I recommend you ask her to create something special for you."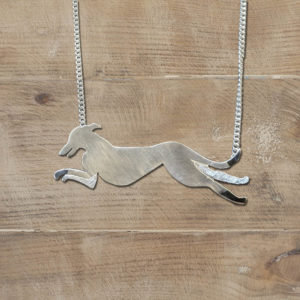 This necklace was a really fun piece to make, as it was based on a customers pet Lurcher dog. After seeing a few images of the ladies dog, I could really add the personal touches such as; the little tip to the tail, larger ears and nose. It was important to her that it was reminiscent of her dog and not just a general Lurcher outline.
Do you have a design you would like made into a piece of jewellery? 
Whether it is a necklace, ring, or transforming heirloom jewellery into something new, get in touch today!
I will work through the entire design process with you including sketches and/or computer rendered images. Have your unused jewellery melted down and reformed into a fresh modern statement piece.
Why not browse the Bespoke Page for inspiration?
---
Coming soon…
There are a few exciting changes happening on parkroadjewellery.com
I am currently designing a whole new Bespoke page. You will be able to see all my previous projects and have a more detailed look into the whole design process.
Alongside this new page, will be a dedicated Wedding Ring page. Design your own rings for your special day and have them made exclusively for you in the Park Road workshop.
 Two new pendants will be released in the Icons collection – A specific Mount Snowdon and Ben Nevis. I am looking forward to making these!
I will be expanding the Nature collection to include more specific birds, with more detailing in their design. I am hoping to include; Owls, Kingfisher, Heron to name a few. Is there a particular bird you would like included? Just let me know, I would love to hear your favorite birds!
Thank you for reading, 
I hope you have a lovely February, speak to you in March if not before!