What to expect when you receive your Park Road Jewellery order.
One of the most important practices I want to uphold is to create a Sustainable and Eco friendly brand.
An obvious place to start this is with the packaging and materials I choose to use to represent Park Road Jewellery. When you receive your order, it will include the following items that are captured in the image.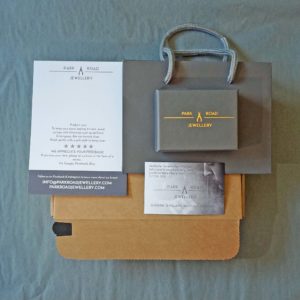 Kraft postage box – A simple unassuming box that will keep your items safe and protected.
Slate grey acid free tissue paper. The entire contents of the box will be carefully wrapped in this tissue paper, to make it extra special to unwrap.
A slate grey gift bag with luxury rope handles. The gift box will be nestled inside the bag, perfect if you are sending direct to your giftee!
Luxury silver gift box with gold embossed Park Road Jewellery logo.
Handwritten thank you note with jewellery after care instructions. I can also write a personalised message to your recipient, just add this information when you place your order.
Business card with all contact details.
All the items included in your order are made from recycled materials, which can also be recycled when you have finished with them. The gift box is also the perfect safe place to store the jewellery when you are not wearing it.
I love packaging up each parcel, ensuring they are secure and will arrive in perfect condition.
If you have any specific requirements of personal touches you would like adding to your order, please just email me info@parkroadjewellery.com
Thank you so much for your continued support!