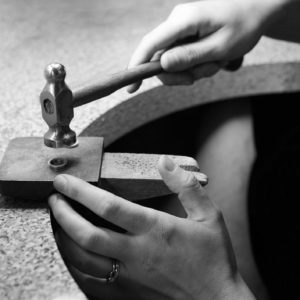 Park Road Jewellery was established to create and provide statement, minimalist jewellery for both women and men to express themselves in a timeless fashion.
With collections encapsulating inspirations from Geometry, Nature and Astronomy.
Each piece is handcrafted from ethically sourced precious metals and gemstones.  Every piece of Jewellery produced is made to an exacting standard to ensure each customer receives a quality piece that they can cherish for a lifetime.
Michelle has a wealth of experience that spans diverse areas of the jewellery industry, including; Traditional jewellery construction techniques, Computer aided design and manufacture and an individual creative approach to design.
"When creating Park Road Jewellery there were a lot of important
ideals I want my brand to uphold."
What I keep as a priority are;"
-Creating a Sustainable and Eco friendly brand
All of the packaging and materials are sourced from either recycled materials or from sustainable sources.
Park Road Jewellery's impact on the environment is considered during all workshop practices such as; avoiding single use plastics and recycling/ reusing materials where possible.
-Committing to supporting charities I believe in, through my jewellery making.
I want my customers to be proud that their purchases have been thoughtfully created with the environment in mind. By purchasing from Park Road Jewellery, you are not only supporting a handmade business, but you are also helping out selected charities. These include Mountain Rescue and Mission Blue.
To get an insight behind the scenes, follow Park Road Jewellery on Facebook, and Instagram.