Hello and welcome to 2021!
Welcome back to the Park Road newsletter, I hope you are doing ok?
As you may have noticed, this is my first newsletter of the year, and it is in February! (Apologies for that!)
January felt like 10 years long, but also completely flew past me at the same time in the workshop! I feel incredibly lucky to have been kept really busy with enquires all throughout Jan, which is a month when I usually hibernate and attempt to recover from the madness of the festive gifting season. So this means I am still slightly out of sorts catching up with life!
Here are some of the projects I have been up to recently.
There have been lots of enquiries regarding the Bespoke Mountain Pendants that I specialise in, however they are all in progress, so I cannot show you just yet! I am excited to get stuck in making them, and passing them on to their forever homes.
You can learn more about them by visiting the link below.
---
'Love the Mountains' Stud earrings in solid 9ct yellow gold.
It is always a pleasure to work in yellow gold, so I was really excited when I received an order for these. Yellow gold feels beautiful to work with and is much more forgiving to polish then Sterling silver!
---
This was a wonderful bespoke project – to make a sterling silver bangle and ring that had the same width and profile, so they looked like a set when worn.
They finished at 4mm wide and have a smooth 'Court' shape profile which is rounded on the inside and outside. It feels beautiful to wear, and is really comfortable. This set is made to last and the owner will be able to enjoy wearing them for many years to come.
I always say 'Simple is best' – simple designs always last the test of time.
Polished Oval Bangle
---
This special bespoke project is a Sterling Silver Lotus with a beautiful Garnet gemstone. It is completely handcrafted. Each petal segment is made in two halves and shaped with pliers until they look and fit just right. There are many hours of labour totalled up to make this, but I think it is truly worth it! A stunning one of a kind piece.
Do you have a design you would like made into a piece of jewellery? 
Whether it is a necklace, ring, or transforming heirloom jewellery into something new, get in touch today!
I will work through the entire design process with you including sketches and/or computer rendered images. Have your unused jewellery melted down and reformed into a fresh modern statement piece.
info@parkroadjewellery.com
---
I can't have a February newsletter without mentioning… Valentines Day!
There are over 100 pieces of handcrafted precious jewellery available on my website to gift for Valentines Day, or why not gift yourself something?
Here is a small selection below;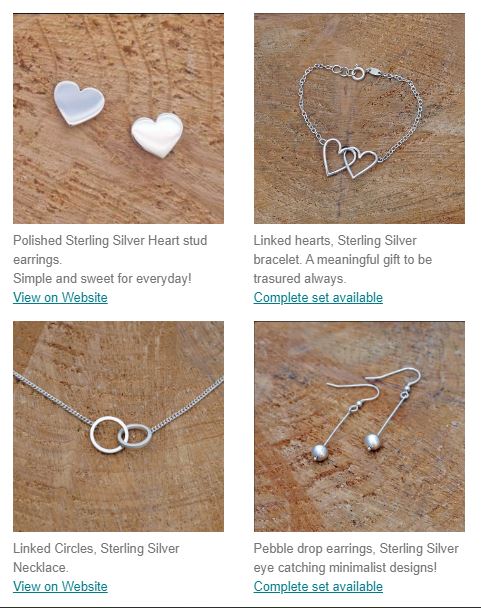 ---
I am so excited to grow and build my business throughout 2021, I will keep you up to date with all that is going on in the workshop!
Take care, and I hope you have a lovely February.