Spring has sprung!
I hope that you have been enjoying these last few beautiful sunny days wherever you are. On my daily walks it has been wonderful to see the Daffodil and Crocus peeping through and displaying their bright colours.
This month we see;
8th – International Woman's day
14th –  Mothers Day UK
17th – St Patrick's Day
20th – OFFICIAL START OF SPRING!
With all the positive news we are all hearing from the government about lockdown lifting, combined with brighter days, I hope you have a bit of spring in your step.
I wanted to say a huge thank you for your orders throughout February! It was even my pleasure to be able to hand deliver some of them, your support for local and handmade business blows me away!
It is usually a quieter month for me, where I put together my plans and development together for the year. So it was a real boost to be kept even busier!
If I have learnt ANYTHING from last year, it is that best laid plans and goals can soon be whipped out from under you and can be totally out of your control. It has certainly led to me being much more open and adaptable with my business and to certainly appreciate the little things and wins!
---
Mothers Day Gift Guide
Here are some sweet gift ideas to show your love and appreciation.
Or if you are a mother why not treat yourself!!
(this also includes being a mother to your dog or cat of course!)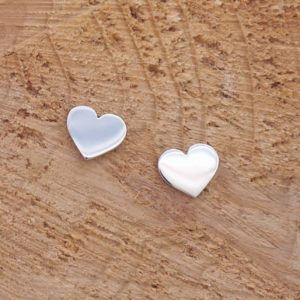 Sterling Silver Heart stud earrings.
These are cut out precisely by hand and lovingly sanded and polished to give them a stunning shine.
Sterling Silver Berries earrings.
Hand forged and shaped into charming bell shapes, these earrings have beautiful movement and work well with everything!
Berries 
earrings £5
0
How about something from the Gemstone collection? Add a bit of colour with Garnet, Topaz or Amethyst.
These minimalist necklaces are handmade from sterling silver and responsibly sourced gemstones, which can be worn everyday and dressed up for occasions.
Gemstone Collection.
---
 Workshop news
On the workbench are some really exciting projects I am working on, but I still cannot share them with you until they are finished and have been gifted!
I am planning a complete overhaul of the workshop as it hasn't really received any love or attention since moving in! I am lucky to have so much more space then my last studio, I really need to make the most of it.
In the works are;
-A proper office space
-Dedicated photography area. So I don't have to put off taking pictures!
-Extending the workbench to include two seating areas.
This is something I am really excited about!
When more normality resumes I would love to offer up space and time to teaching and bringing in experience days to learn to make your own jewellery. And most exciting- a make your own wedding bands workshop! Lots to work on and to learn about, building cupboards and work spaces! Watch this space, I cannot wait to share it with you.
Thank you so much for reading and your continued support!