Hello everyone,
and a huge hello to some beautiful sunshine finally!
There is certainly a more positive feel in the air, now shops and venues are reopening their doors and summer has decided to arrive. I hope you are enjoying yourselves and had a wonderful bank holiday.
I actually made myself have a break this bank holiday, as I would usually just treat it as a regular day in the workshop. I cannot wait to show you all what I have been up to!
---
New to the workshop
These past few weeks have certainly seen some new additions to the workshop and it all seems to have come at once! Lots of new tools that will allow me to produce new designs and expand on what services I can offer. A huge step for the Park Road Jewellery workshop, but I am really looking forward to trying them out.
First up is…
A Rolling Mill!
A Rolling Mill is one of THE most expensive items a jeweller will buy for their workshop. You cant really live without one.
A rolling mill helps you to forge down your metals and wire. You can make sheet thinner, you can shape wire and draw it down from a large block or billet of metal, and you can also create a whole host of textures and finishes.
I currently have a very small mill that has been so helpful, but it is very limited on how thick the metal is that you can work with. This new beasty is HUGE!
Now she may not be the prettiest bit of kit going, but as I mentioned, a new mill does not come cheap, and second hand ones are snapped up extremely quickly. I have been on the hunt for a large second hand mill for over 2 years, so I feel incredibly lucky that I managed to scoop this one up! She just needs a bit of TLC and she'll be put back to work again!
Next up …
Casting equipment!
The items you see here are used in the casting process.
The tool on the left is a Crucible. This is a high temperature ceramic dish that you actually melt the metal in. When the metal is molten there is a small pouring spout to carefully tip your metal out into your mould or ingot.
The pieces on the right are the steel mould casing and the sand for casting. It is actually called Delft Clay, and it is a really dense fine powder/paste. The mould halves are filled with the sand and then you can create an impression with any object inside of it. The sand picks up such fine details, you can create impressions of leaves, twigs and any 3d form. it is really fantastic!
What this means
Including these new tools in the workshop, allows me to produce so much more! I will be able to take on much more work for recycling precious metals and remaking them into new pieces.
It will also allow me to expand upon my 'Nature' themes by casting natural objects and using their stunning textures in new ranges.
Watch this space!
---
Bespoke beauties
Hot from the workbench! This stunning ring is a recent bespoke commission, using the clients existing diamond 18ct yellow gold ring.
The original ring was very slimline and dainty in design, with the three gorgeous diamonds sitting very high off the finger in claw settings.
I carefully removed the diamonds and melted down the original shank with some new 18ct yellow gold to transform it into a more chunky minimalist ring, which is much more the clients style.
The diamonds are then 'Rub Set' into the actual band itself rather then sitting high. This made for a really stylish and smooth look.
The client loved it, what do you think?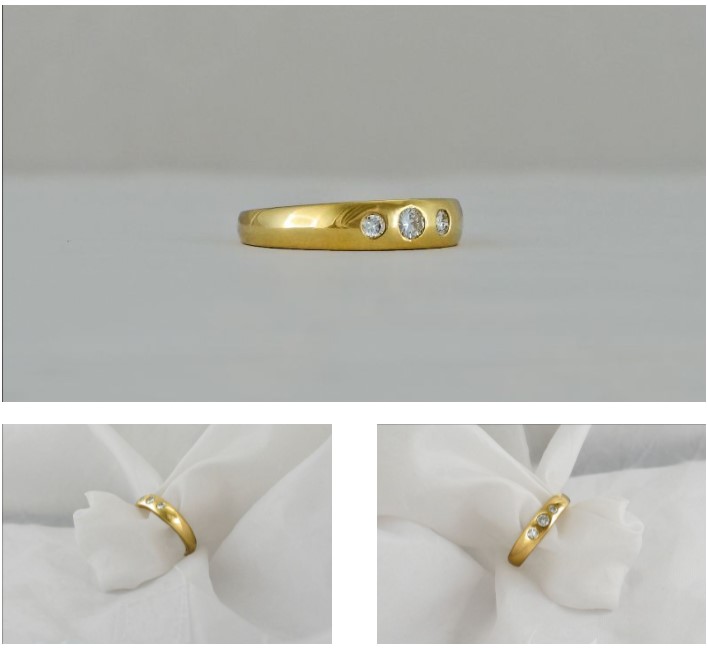 Thinking about your own project?
Contact Michelle today to discuss recycling some of your unworn jewellery into something completely new! Breathe new life into unworn items and make them into future heirlooms.
---
Summer vibes
Fancy a new addition to your jewellery collection to update your outfits for summer?
Have a browse of these gorgeous pieces to add to your summer wardrobe.
All handmade in the Park Road Jewellery workshop.
Add some colour this summer with some STUNNING gemstones.
Garnet, Topaz and Amethyst.
All gemstones are responsibly sourced.
These Oak leaf earrings and pendant are available separately or as a set. The Peridot is a gorgeous fresh lime colour.
All gemstones are responsibly sourced.
Dreaming of the beach and a holiday away?
These cute Love the Ocean earrings are simply perfect.
Easy to wear everyday, or a wonderful gift for a friend.
Love the Ocean Earrings
Thank you so much for reading this months newsletter and your continued support for my one woman business!